The most worthwhile remote control car within 100 yuan: it is out of print goods with first-class workmanship, fast speed, large torque, cross-country racing and money can't buy in two years
Creation position statement: I purchased this product at my own expense. This product has been discontinued for a long time. Currently, there are only leftovers in stock on the market, non-professional remote control cars, but they are really fun and worth sharing with all of you.
From the point of view of normal people, the remote control car is a children's toy, but it is not the case, because many children's fathers also like to play, and it is also a toy for adults. There are many types of remote control cars, such as car models, climbing, off-road, racing, drifting, etc. The most boring is the car model. It's okay to look at it on the desk, but it's really boring to move. Personally, I like drifting (RC) very much, but drifting requires a concrete field. If you take children to the park, RC cars are not suitable.
The car I want to introduce to you today can be used for both off-road and racing. The motor has a high speed and a very powerful torque. It can climb hills or run on the lawn. It uses AA batteries and is highly versatile. The most important thing is that it is very small, adults and children like to play. It can be said that it is the best remote control car with the best comprehensive performance within 100 yuan I have ever played.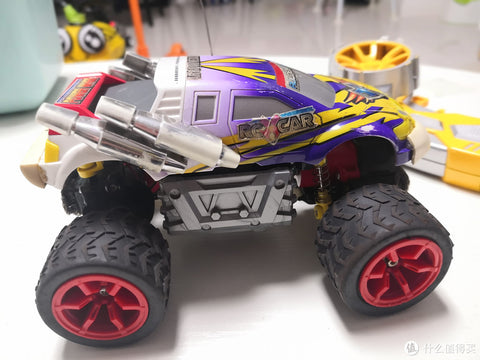 Seeing the above picture, I believe old iron has already been recognized. It is Audi double drill launched the thunder speed explosion, the explosion is a 1:28 old fellow off-road remote control vehicle, but has already stopped production. At present, only stock tail goods are sold on salty fish and other platforms, the price is 50-100 yuan. (PS: after this article is published, it may cause the price of this car to rise, which I deeply regret)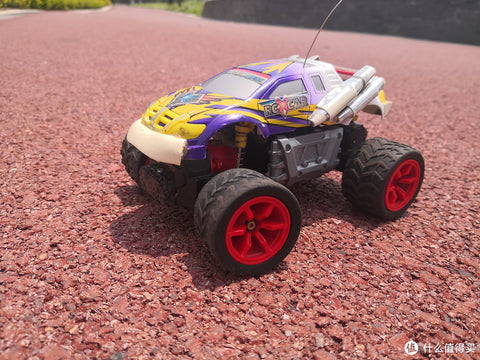 This car has high motor speed, up to 25km / h, and can also be easily modified to speed up to 40km / h. It is very violent to play. The most important thing is that the torque is very strong. It can easily play on the lawn in the park, and climbing a steep slope is not a problem. It can be called the best baby walking artifact.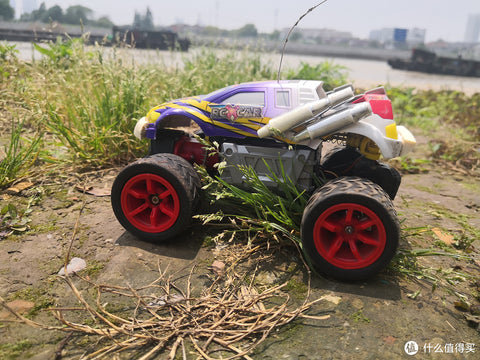 As shown in the figure below, this very steep soil slope, because it is driven backward and has a differential, will slip when it goes straight up, and can swing back and forth and climb like a "snake"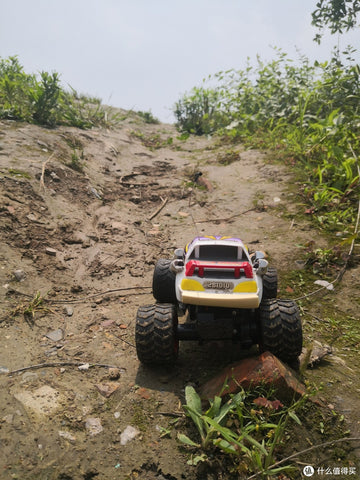 The car shell is made of hard plastic, which may break in high-speed impact. It's most like me to stick anti-collision sponges in front and back.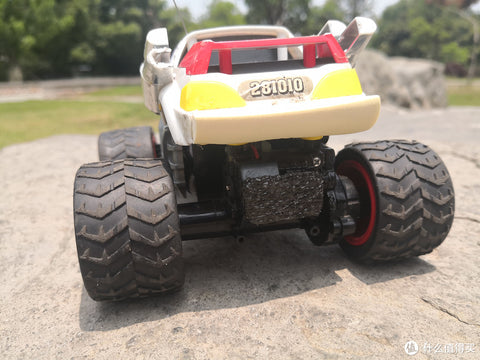 The remote control is also very distinctive. It is a very sci-fi gun remote control. Due to the AM frequency, the remote control distance is less than 50m, and it is easy to be disturbed by obstacles. After all, it was an old product 10 years ago. At that time, there were few 2.4G remote controls.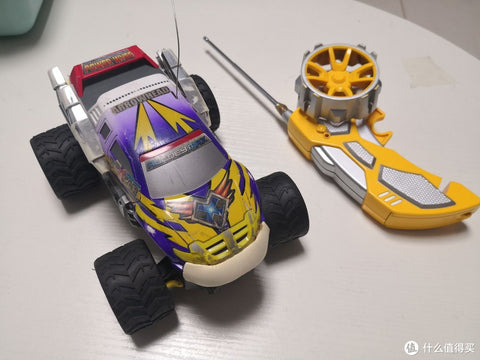 The chassis design is very distinctive. The front and rear are integral bridge structures. The bridge is connected with the frame through "plastic shrapnel" and spring damping.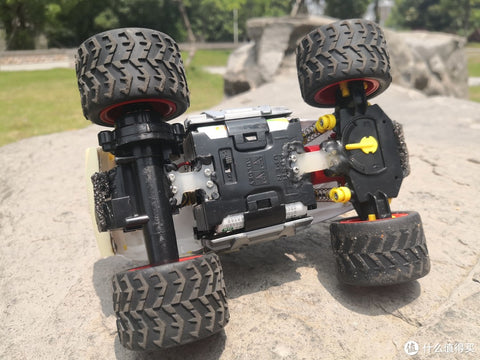 This "plastic shrapnel" should be a leaf spring made of glass fiber reinforced plastic. It is also used in cars such as Volvo XC90. It has high toughness and high strength. It is a very good elastic material.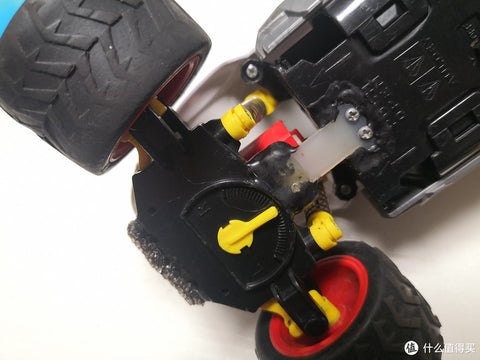 One side of the shrapnel is fixed by two screws. After high-speed driving and multiple impacts, it is easy to get loose. If it is not handled in time, it is easy to damage the frame. So I fixed it with black hot melt adhesive.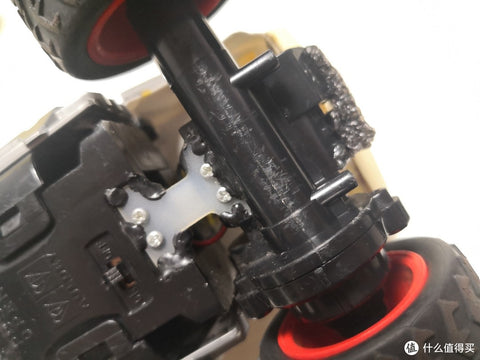 The battery compartment is on the side of the vehicle body, with one on each side, and two No. 5 batteries are placed on each side to form a 6V power supply. The battery cover adopts anti-collision ABS plastic. I remember Dyson's vacuum cleaner uses this plastic, which has good fall resistance. Battery I use the 1900mAh Panasonic No. 5 NiMH battery. I can play for a few hours. I haven't tested it. Anyway, I take more backup batteries with me. It's very convenient to change them when there is no power.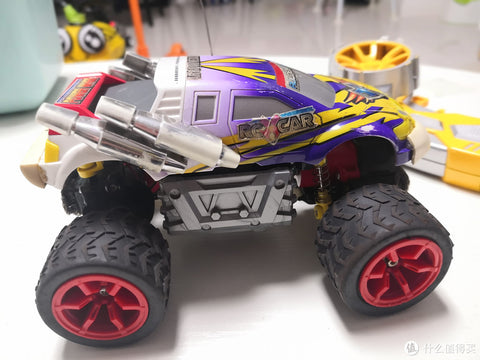 No. 5 and No. 7 NiMH batteries are not well done by domestic brands. Flying lion and beiteli should be OK. For example, the amount of industrial waste is a waste of money. The amount of industrial waste bought cheaply before was directly thrown into the trash can several times. There is also Lei photo, which leaked liquid when charging.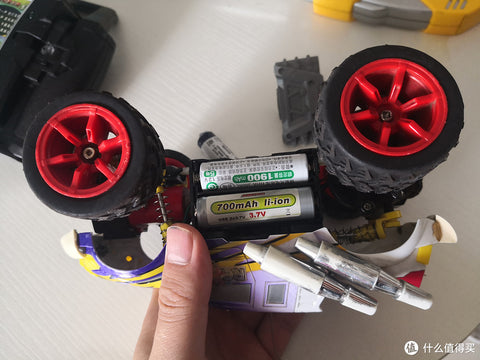 The antenna was broken by several children. Take it apart and repair it. By the way, let's show you the internal design.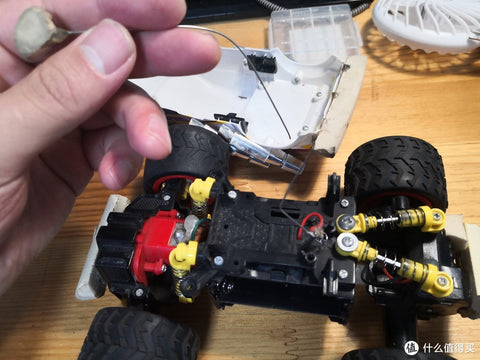 This is a two drive vehicle with a longitudinal motor at the rear axle and a differential. This differential is very flexible. The turning radius of the car is very small, and it is very stable when turning at high speed. Spring damping only means that the support and damping mainly depend on the plastic shrapnel below.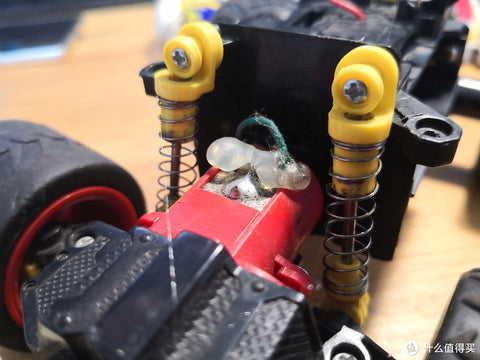 Steering part, common centrifugal clutch design, non proportional steering.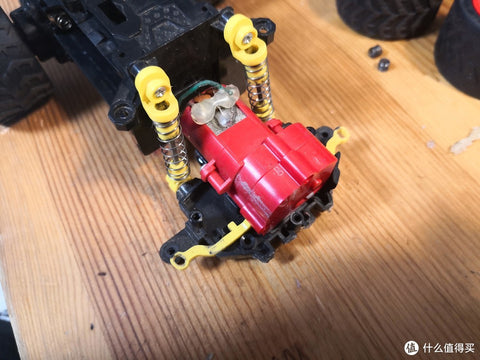 The speed is not too slow, but if you have a higher pursuit of speed, you can solve it this way. This car uses four No. 5 batteries to provide power. It can be freely combined with No. 5 battery, 14500 lithium battery (flat head is recommended) and space bucket. If three 14500 batteries are used, the voltage can reach 12V and the speed can be nearly doubled, up to 50km / h. It is very violent and terrible.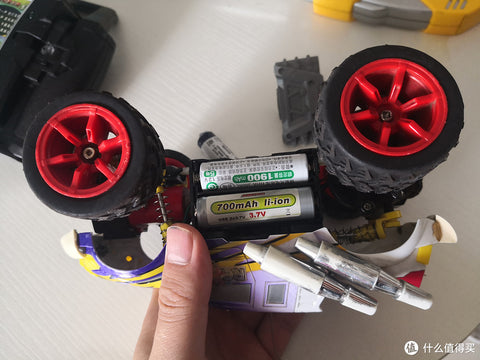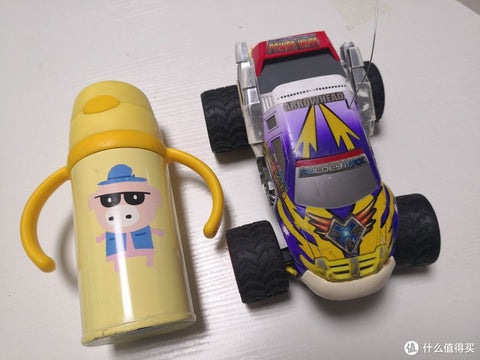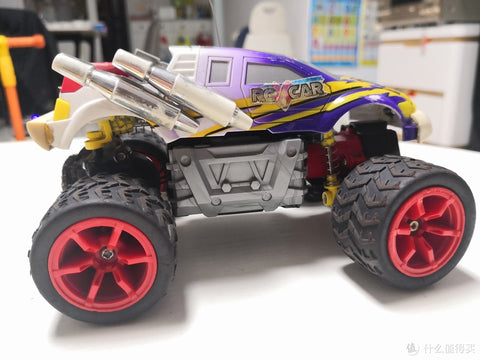 Summary:



There are not many fun remote-controlled cars within 100 yuan. This leisuden explosive is worth a try. It has good quality, fast speed, off-road ability and fashionable appearance. The disadvantage is that there are almost no accessories, especially after the tire skin is worn out, it may only be done by yourself. I've been playing this car for several months. The quality is very good. I've fallen and hit it countless times. Except that the shell and tire are damaged, the suspension part is not damaged. For a high-speed car, this quality is worthy of praise.